---
Welcome to Rosebud Gas Co-op!
We have been serving customers in Wheatland and Kneehill Counties since 1973, when a group of local farmers from Rosebud initiated the natural gas co-op after noting the success of co-ops in other areas. The first planning meeting was held in the Rosebud Community Hall in 1972. The next year, the Alberta Rural Gas Program was created and the current franchise area issued to our new Co-op, which covers 1070 square miles.
During the early years of the Rosebud Gas Co-op, operations were managed out of members' and employees' homes and farms. In 1988, an office was established in Rockyford. In 2013, an enlarged office and shop were built on Railway Avenue in Rockyford, where we operate with a staff consisting of a manager, three service and two office personnel.
Our mandate is to efficiently and safely operate our gas distribution system from the point of transfer on the Transcanada and ATCO distribution lines to each customer endpoint, including coordinating new construction, installing meter sets, leak detection, and maintenance of the distribution system.
Today, approximately 75% of the province's rural areas are served by over 50 gas co-ops, five County systems, seventeen Town systems and seven First Nations, all organized under the Federation of Alberta Gas Co-ops, which sets standards for policies, services and practices.
All Rosebud Gas policy is created through the Board of Directors, who are elected by the members at the Annual Meeting in March, and meet monthly throughout the year.
The Rosebud Gas Staff and Board of Directors are pleased to be meeting the natural gas service needs of the members and customers in our franchise area!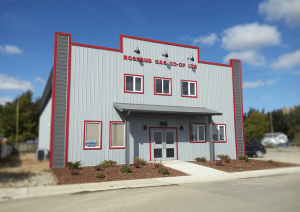 ---